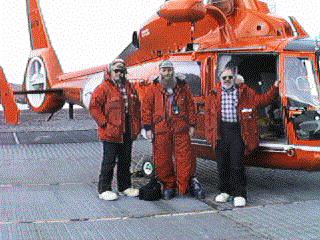 Surviving in Antarctica
what is needed?
---
I was wondering about the type of gear one absolutely needs to survive in Antarctica. You know, clothing, sleeping equipment, etc.
-Keren
CPFKeren@aol.com
---
Hi Keren,

When we travel out of town, we carry a survival bag containing camp stoves, food, tents, sleeping bags, and extra clothes. The most important piece of gear folks leave behind are their minds.

The clothes we use are supplied to us in New Zealand before the trip down. For around town, jeans and sweat shirts are normal, and throwing a coat on when it is chilly. The ECW (extreme cold weather) gear required for travel by plane, helicopter or ground transportation out of town is layered for warmth and comfort. Next to the skin we wear synthetic long underwear and wool socks. Next we put on a polar fleece overall, and then a heavy nylon wind proof pant or overall. A polar fleece jacket goes on next, and a hat of polar fleece, and a neck gaiter of polar fleece. Boots are either Mukluks with felt pads, and quilted liners, or bunny boots made of rubber with air pockets for insulation. A down filled parka with coyote fur trimmed hood. On the hands, wool mittens, covered by fur backed gauntlet mittens.

Are you associated with a school? I am doing quite a bit of correspondence with school children.

Dave
David Hess NK3T


dhess@shore.intercom.net Presently living in beautiful downtown McMurdo, Antarctica.
---
Patricia A. Weeg
pweeg@shore.intercom.net Return to Global Classroom