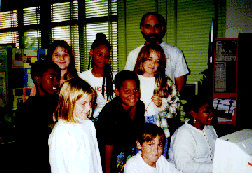 Mr. Bill Visits Delmar
(and the TV came too!)
---
Hi to everyone!
I really enjoyed meeting everyone yesterday. I had a wonderful time at your school and I hope that I can come back and visit again sometime. You have a beautiful school and excellent teachers, you should be proud to attend Delmar Elementary.
Hi Casie,
I did not get to see the broadcast myself. I did not get back from my daughter's field hockey game until after seven, and the 11 o'clock news did not come on until after the baseball game finished after midnight( I was asleep). My wife and mother saw it and thought it was great. You did excellent, I felt pretty nervous myself. I have never been on TV before, have you? What did your friends think of it? Are they calling you the big TV star now I had a great time at your school, thanks for having me there. It was great meeting you, now when I write I can associate a person, face and smile with it. Keep writing!!!
See ya,
Bill
Hi Hannah,
I do not get to go in space on a rocket, I just help to build them. I wish I could go to the moon, I think I would like to go there. Would you like to go to the moon? If you do, maybe you could be an astronaut when you grow up.
Hi Stefanie,
Sorry to hear about your dog, maybe you can get another dog someday. What was your dog's name? I would like to have a dog too, but I have a very small yard and no room for one.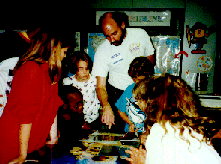 Hi Devaune,
You do have a few questions don't you. No, I am not a scientist, but I am an electrical engineer. Scientist come up with ideas and ask me to help them build what they want. Everyone is be smart about something, that's nothing special. I would not say that I am smart about everything but I do know a lot about what I do. No, I do not wear glasses now but I may need them in the future. Your eyes change as you get older. I wear jeans a lot they are my favorite, but I am required to get dressed up for work each day. In the summertime I like to wear cutoff jeans for shorts. I love plants, our house is full of plants. Plants are pretty to look at, they help to clean the air, and flowering plants smell good. Do you like plants. I do not know if I am cool or not, my daughter tells me that I am not most of the time, but parents usually are not cool. My daughter Kate goes to WiHi, she tells me that she and her friends are cool and that I would not understand. Have you ever said that to your parents?
Bye,
Bill
Hi Jon,
I was glad to come to your school, it was a lot of fun to meet everyone. What kind of rocket did Andrew bring to school. Was it for science class? It would be nice to visit again when I get back from Australia. We will not do anything with our rocket until we get to Australia, we will have to test it and put it together before we can launch it. What grade are you in Jon, will you be studying rockets in science class this year? They are fun to build and launch, I hope that you get to build one. What is your favorite subject in school, do you know what you want to do when you finish school??
Write back soon,
Bill
P.S. Would you help Mrs.. Weeg tell everyone that after Monday I will not be at this E-Mail address for a while. I will send a message to you when I get to Australia with a new address that we can continue writting.
Hi Elvira,
It is good to hear form you. I hope you enjoyed meeting me as much as I enjoyed meeting you. I had a lot of fun yesterday, everyone was just wonderful. Now that I have met you, it will mean so much more when I write to you. Thanks for having me at your school.
Hi Ashley,
I watched a video from the library on Australia last night. It had all kinds of fun things to see and do. Usually I have to work a lot when go away, but I hope to get some time to explore the country. We will be building 2 stage rockets with telescopes so the scientists can look at the stars. Sometimes we look at the sun or planets.
Hi Holly,
I remember meeting you, it was late in the day. I wish I could have spent more time talking with you, but now you can write to me whenever you want. Why don't you tell me about yourself, what is your favorite subject in school, do you have any pets, do you like to play any sports?? I know you like using the computer, so do I. I wish I had a computer at home that was connected to the interent.
Bye for now
Keep writing
Bill

---
pweeg@shore.intercom.net
Return to Global Classroom